Avoid the burden of pumps and catheters with EXPAREL
Only EXPAREL provides long-lasting pain control in a single dose.
EXPAREL avoids the common problems associated with pumps and catheters1-4:
Migration
Unpredictability/malfunction
Patient compliance
Leaking
Infection
Why risk toxicity with pumps and catheters?

Consider the cost of pumps and catheters vs EXPAREL
EXPAREL:
133 mg (10 mL)=$175
266 mg (20 mL)=$325
Continuous catheter:
Average of $756.57 per patient for
device alone7

In the face of shortages,
EXPAREL requires significantly fewer local anesthetic resources than continuous catheters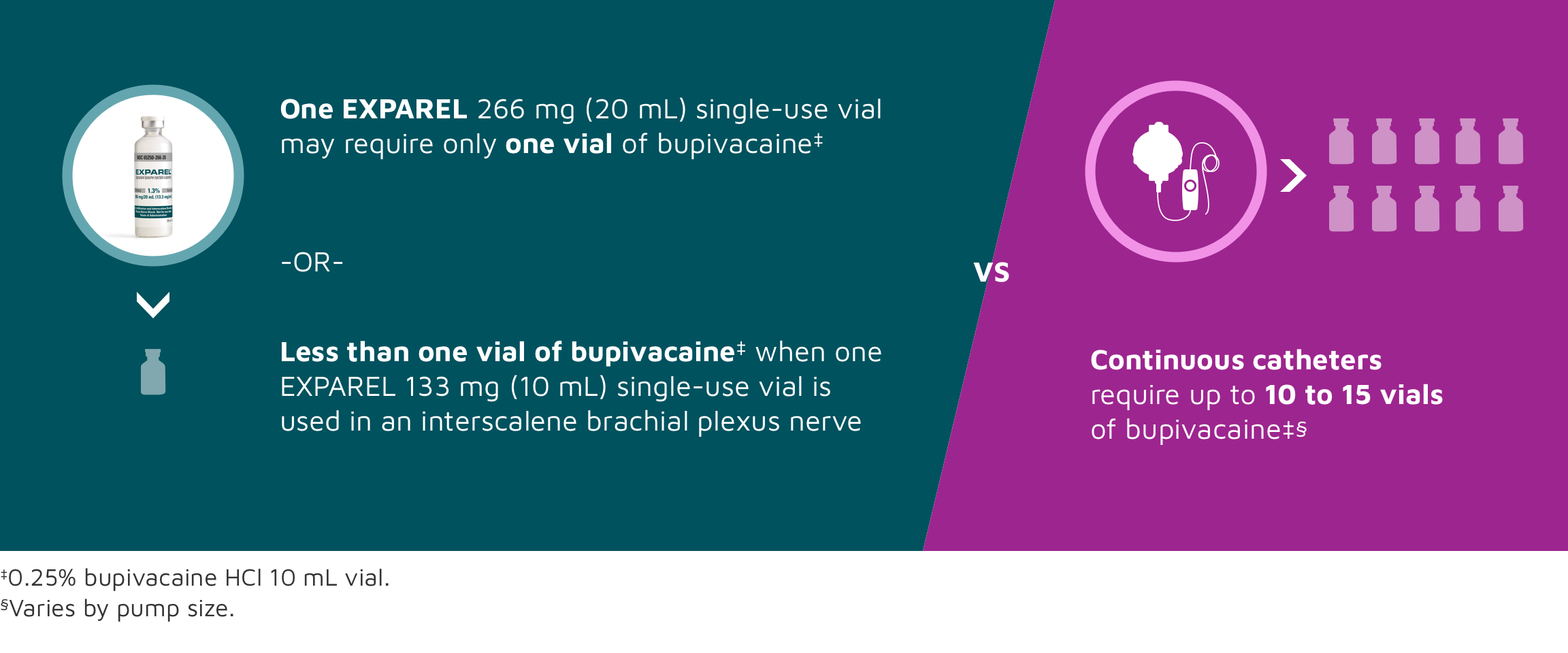 EXPAREL delivers long-lasting pain control in a patient-friendly modality
No external devices attached to patients at discharge
No extra burden for patient to remove the catheter8
No need for patient involvement once home
No unplanned phone calls related to patient compliance
CNS, central nervous system; LA, local anesthetic.

†Data from a single-center cumulative dose toxicity study characterizing serum bupivacaine concentrations over 72 hours in patients undergoing a total knee arthroplasty.
Patients in the EXPAREL arm received EXPAREL 266 mg (20 mL) plus 30 mL of bupivacaine 0.5% as a periarticular injection (PAI). Patients in the continuous femoral nerve block arm received a bolus of 20 mL of
bupivacaine 0.5% followed by 8 mL/h bupivacaine 0.5% for 48 hours and a PAI of 30 mL of bupivacaine 0.5% during surgery.
Avoid additional use of local anesthetics within 96 hours following administration of EXPAREL.