Administration volume and technique are critical to achieving optimal results
The videos below include a variety of surgical procedures that demonstrate examples of how to administer EXPAREL for optimal pain control and coverage.
TAP Block in Open Hysterectomy
Performed by: Dr Hutchins
For more information on EXPAREL, connect with us here
This video represents an individual clinician experience with and methodology for using EXPAREL.
Pacira BioSciences, Inc., recognizes that there are other methodologies for administering local anesthetics, as well as individual patient considerations, when selecting the dose for a specific procedure.
Please see Important Safety Information below and refer to the Full Prescribing Information.
More Videos
4-Point TAP Block Performed by: Dr Hutchins
4-Point TAP Block
Performed by: Dr Hutchins
Abdominal-wall field blocks are part of a multimodal strategy for postsurgical pain management1
Abdominal-wall field blocks (ie, TAP)
Use a local anesthetic to provide effective regional analgesia for a range of procedures.1
Provide analgesia to the anterior abdominal wall and involve administration of a local anesthetic into the fascial plane between the transversus abdominis and internal oblique muscles.2
Approaches to abdominal-wall field blocks continue to evolve
TAP block
Originally described as a landmark-guided field block based on the lumbar triangle1
Ultrasound-guided TAP blocks
allow visualization of the needle and local anesthetic in the plane1
Example Field Blocks with EXPAREL
Additional approaches have been and continue to be developed, including1,3:
Subcostal TAP
4-point TAP
Rectus sheath blocks
QL blocks
ESP blocks
TAP blocks can be administered by the anesthesiologist or the surgeon2
Abdominal-wall field blocks can achieve sensory block in several areas
Classic TAP block4Yellow semicircle over the lower abdomen (dermatomes T10 to L1)
Subcostal TAP block4Can vary, or via direct visualization with laparoscopic procedures by the surgeon, but approximately the shaded gray in the upper abdominal quadrant (dermatomes T6 to T10-T12)
Bilateral 4-point TAP block5Green shape overlapping the areas of coverage of classic and subcostal TAPs (dermatomes T6 to T12)
Rectus sheath block5Narrow black oval over abdominal midline (dermatomes T6 to T12)
QL block6Large purple circle over abdominal midline (dermatomes T4 to L1)
Ultrasound-guided infiltration of the appropriate nerves can achieve a range of sensory blocks7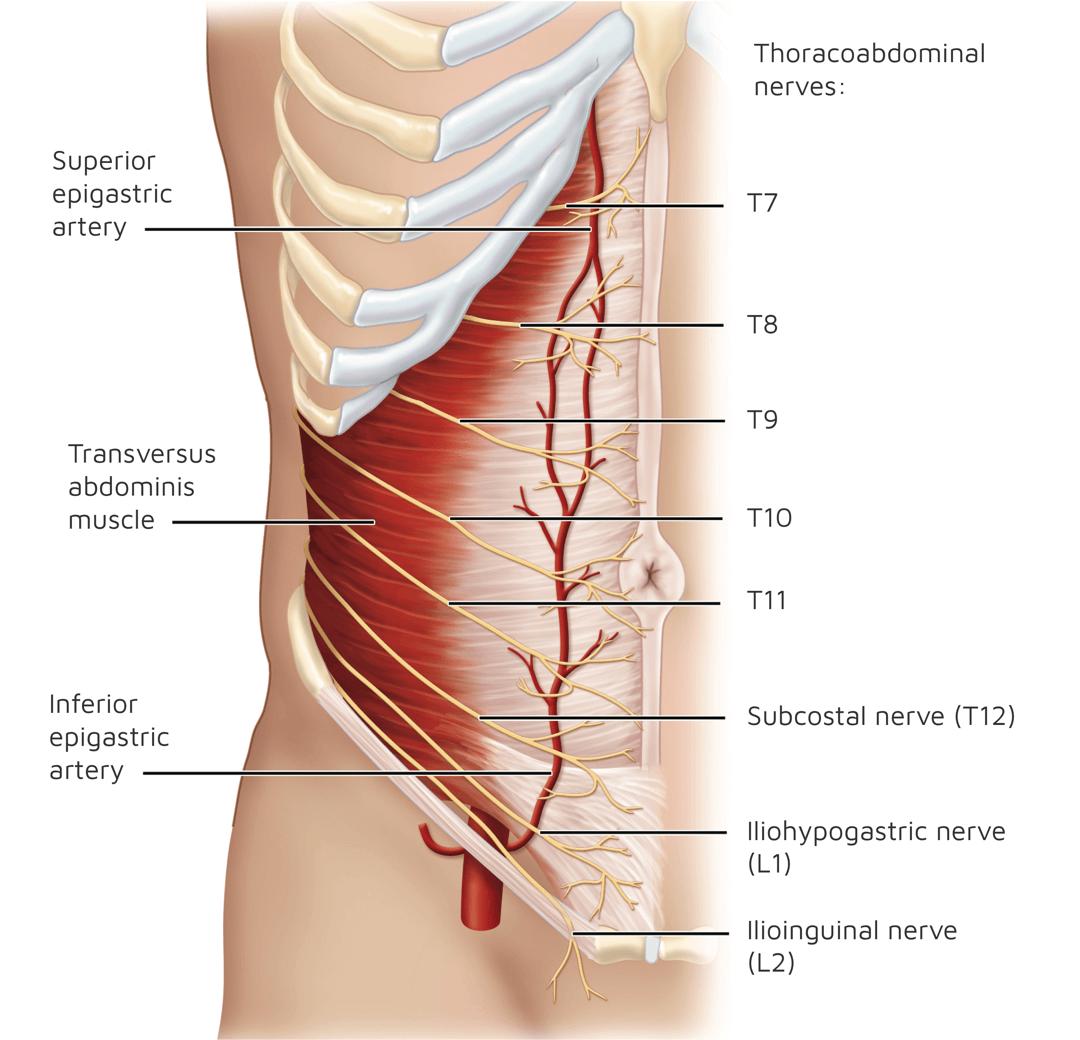 Images used with permission from Abdominal Best Infiltration Practices and International Guidelines Central. Artwork created by Kellie M. Holoski, 2016.
Connect with us
TAP, transversus abdominis plane; QL, quadratus lumborum; ESP, erector spinae.